Day Thirty-Four Of Swords Of Iron
WHO warns of outbreak of disease and bacterial infections in bombed out Gaza.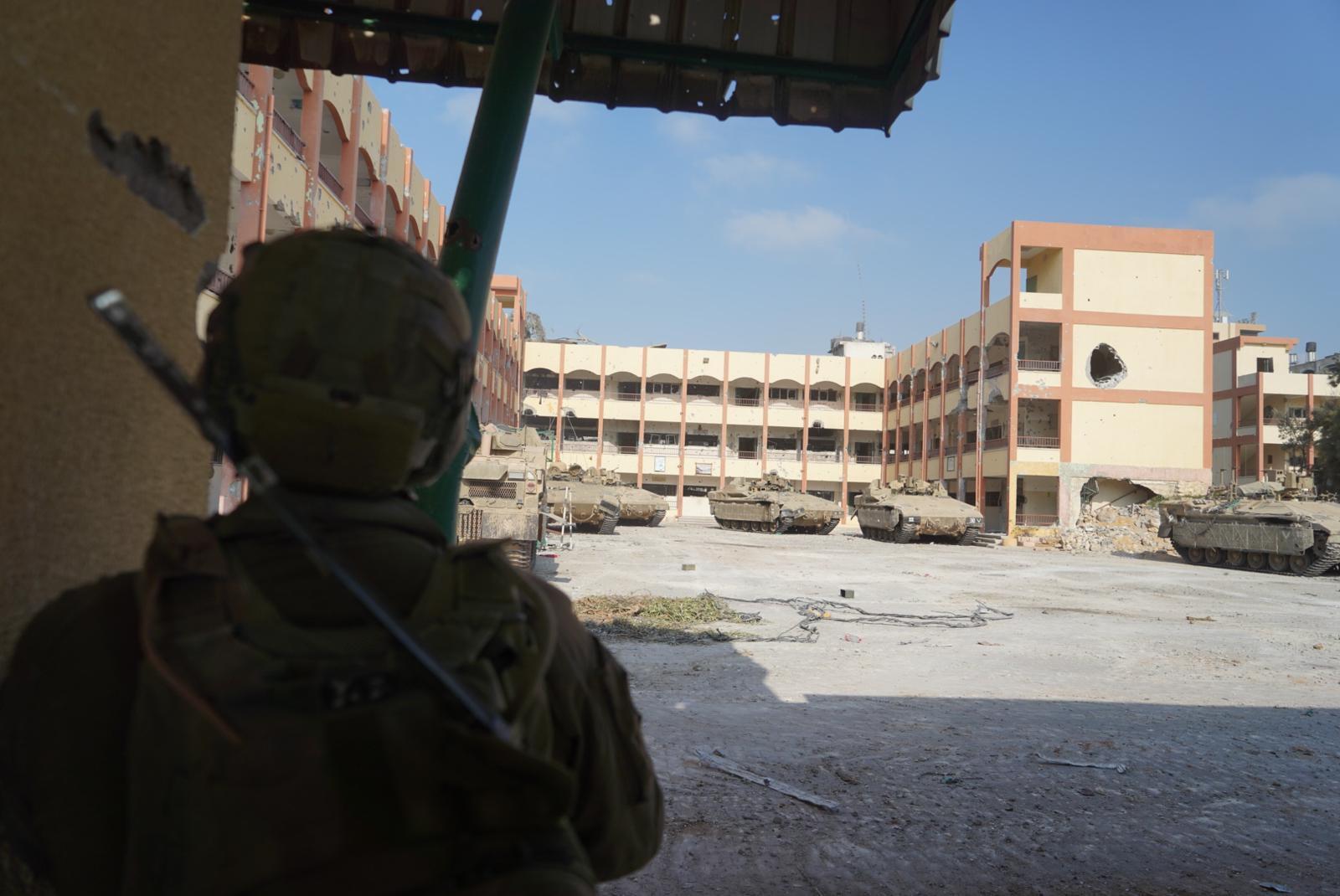 7:39 pm
Israel formalized today pauses in fighting in Gaza, the White House announced.
But plans for such short-term paueses should be coordinated with the UN, a UN spokesperson said. Speaking for UN Secretary-General Guterres, Stéphane Dujarric said, "How any such halt in the fighting, and how it would work for humanitarian purposes, will need to be coordinated with the United Nations, especially on the issue of timings and location. And obviously in order for this to be done safely for humanitarian purposes, it would have to be agreed with all parties to the conflict to be truly effective."
Canadian premier Trudeau condemned recent bouts of violence in Canada. In Montreal on the evening of Nov. 8, shots were fired at two Jewish schools in Montreal and clashes broke out between pro-Israeli and pro-Palestinian students at a university in the city. Police are investigating the shootings at the two schools in the Côte-des-Neiges neighborhood after staff reported finding bullet holes in the front doors of the schools. Earlier this week, Molotov cocktails were thrown at a synagogue and Jewish community center, also in Montreal. Trudeau said, "I know emotions are high, and people are scared. But attacking each other is not who we are as Canadians." Speaking on Nov. 9, Trudeau said: "If anywhere in the world is going to start building the kinds of understandings that we're going to need to see peaceful resolution in the Middle East ... it starts in a place like Canada."
According the Hamas-controlled Palestinian health authority, 18 residents of the West Bank town of Jenin were killed by IDF troops today. The authority said that 178 Palestinian residents of the West Bank have been killed since Oct. 7
The Palestine Red Crescent Society (PRCS) said one of their paramedics was shot and wounded by Israeli forces targeting an ambulance during the raid in Jenin refugee camp in the West Bank today.
According to The Guardian, diplomats are negotiating a days-long ceasefire in Gaza in exchange for the release of hostages, including children, women, elders, and the sick. The newspaper reported that there are talks about a one- to three-day ceasefire, although nothing has been agreed. For his part, Israeli PM Netanyahu has repeatedly rejected rumors of a ceasefire, saying that there will not be a ceasefire until all hostages are released by Hamas.
Earlier today, the White House announced Israel's implementation of four-hour-long "humanitarian pauses" in parts of northern Gaza to allow Gazans to flee. White House spokesman John Kirby said it was "a significant first step". Later, the State Department said that there will be two humanitarian corridors for civilians to leave hostile areas of northern Gaza.
7:34 pm
Speaking at a conference marking the anniversary of the U.S. invasion of Afghanistan, Sayed Esa Hussaini Mazari, the Secretary General of Iran-backed Tebyan Cultural and Social Activities Center in Kabul, stated: "Israel's situation is getting worse every day." Hamas's October 7 attack on occurred on the 22nd anniversary of the U.S. invasion of Afghanistan, he noted.
"After America's defeat in Afghanistan, it can be seen that Israel's situation is getting worse every day, and after the massive public demonstrations and protests in the past months [in Israel against the Benjamin Netanyahu's government], this regime is now facing the massive attack of Hamas, and the Islamic Jihad organization," Sayed Esa Hussaini Mazari told the conference.
"While Israel had almost the fourth or fifth [strongest] army in the world and everyone was afraid of it, today, the Islamic Jihad organization and Hamas have entered the occupied territories with a Kalashnikov and a motorcycle and captured seven or eight areas. This success is the greatest service to the Islamic world, the greatest service to the Islamic Ummah, and the hardest blow to America's remaining prestige in the region," the Shi'ite leader said.
7:31 pm
Responding to Israel's statements that the war in Gaza is meant to eliminate Hamas, Jordanian Deputy Prime Minister and Foreign Minister Ayman Al-Safadi said, at a November 8, 2023 conference organized by the Amman municipality, that "Hamas is an idea and ideas do not die." He added that, without addressing the Palestinians' rights and establishing a Palestinian state, security and stability will never be achieved, and war will break out "every five or six years." He also stated that Jordan is working to refute the Israeli narrative about the war.
Israel's Air Force used the 'Arrow 3' air defense system today to intercept a missile launched at Eilat by Houthis in Yemen. It was the first-ever use of the system, and came on the heels of the first successful use of the 'Arrow 2' system for the same purpose last week, which marked the first-ever instance of combat outside Earth's atmosphere.
The 'Arrow 3' system, developed by Israel Aerospace Industries, a leading defense firm, is an advanced air defense system for intercepting ballistic missiles in space. In August, Israel announced that it would sell the system to Germany for NIS 14 billion, in what is to date the largest defense deal in Israel's history. The sale came amid Germany's decision to upgrade its defenses in the wake of Russia's invasion of Ukraine.
The system does not use any explosives but rather relies purely on the damage done by interception. The Arrow 2, by contrast, carries a warhead that destroys the missile using an explosive charge.
7:21 pm
The Palestinian Islamic Jihad terrorist group is willing to release two Israeli hostages, a spokesman announced today. The spokesman named as Hanna Katzir, 77, and Yagil Yaakov, 12, both of Kibbutz Nir Oz. Yaakov was abducted, as was his father, his father's partner, and his brother Or, 16.
IDF spokesman Rear Adm. Daniel Hagari said that a cruise missile launched by the pro-Iran Houthi rebels in Yemen towards southeastern Israel was intercepted by Israel's "Arrow" Air Defense System over the Red Sea near the City of Eilat.
7:08 pm
The Council on American Islamic Relation (CAIR), a Muslim advocacy group that has been designated a terrorist organization by the government of the United Arab Emirates, called on President Biden to pressurize Israel to release West Bank Muslim activist Ahed Tamimi. Tamimi, 22, was arrested on Nov. 6 after posting on Instagram that Palestinians would slaughter Israeli so-called "settlers." "Come on settlers, we will slaughter you. We are waiting for you in all the cities of the West Bank. What Hitler did to you was a picnic. We will drink your blood and eat your skulls," she wrote in Arabic and Hebrew. She is related to Ahlam Tamimi, a Jordanian woman, who received multiple life sentences for her involvement in the 2001 Sbarro suicide bombing in Jerusalem. She was released in 2011 in exchange for Israeli hostage Gilad Shalit.
2:38 pm
Protesters on the campus of UCLA shouted 'Beat that f***ing Jew!" while beating a pinata bearing the face of Israeli PM Benjamin Netanyahu on Wednesday.
"Israel demands action after journalists reportedly joined Hamas massacre. AP responded: "AP had no advance knowledge of the October 7 attack," said spokesperson Nicole Meyer. The media watchdog HonestReporting published an investigative report late on Wednesday showing that journalists from leading news outlets, including The New York Times, AP, Reuters and CNN, joined Hamas terrorists from the Gaza Strip on October 7 to document the horrific events with their cameras. The organization, which works to expose anti-Israel bias in the foreign press, raised weighty ethical questions in the investigation regarding the presence of those photographers alongside Hamas terrorists."
2:23 pm
"The Israeli Defense Force said its troops captured a major Hamas stronghold in west Jabaliya, just north of Gaza City, in the early hours of Thursday morning following 10 hours of fighting, as the military meanwhile pushed further into the heart of Gaza City where the terror group is believed to have its underground headquarters. The IDF said that Nahal Infantry Brigade troops battled Hamas and Islamic Jihad operatives in the west Jabaliya stronghold known as Outpost 17, who were both "above ground and in an underground route in the area," and that dozens of terror operatives were killed in the course of the battle.
Inside Outpost 17, the IDF uncovered "significant" Hamas battle plans, as well as weapons and tunnel shafts, one of which was located adjacent to a kindergarten and led to an "extensive underground route," the IDF said."
The IDF announced it had killed senior Hamas commander Ibrahim Abu-Maghsib, who it said was responsible for the terror group's anti-tank guided missile (ATGM) operations in central Gaza. He headed Hamas's ATGM array in the so-called central camps brigade. The IDF shared video footage of the strike that killed Abu-Maghsib. An IDF statement affirmed, "As part of his position, he directed and carried out numerous anti-tank missile launches directed at Israeli civilians and IDF soldiers."
In Gaza City's Sheikh Radwan neighborhood, the IDF discovered a Hamas drone manufacturing plant and weapons depot inside a residential building located next to a school. Footage shared by the IDF shows troops finding several Hamas drones in the building, as well as equipment used to manufacture them, and instructions to make explosive devices.
IDF forces drew closer to the Al-Shifa hospital, which is believed to harbor a Hamas operations base.
2:15 pm
Israeli Defense Minister Yoav Gallant told a news conference that Israel won't stop fighting Hamas until the last of the 239 hostages are released from Gaza. Saying that children were abducted by "animals," he vowed: "We won't stop the fighting until we get them back. What father stops looking for their children? I see them as my own kids."
Gallant claimed Hamas terrorists facing Israeli troops can hear them coming and are "shaking with fear."
Gallant said the IDF faces the challenge of entering tunnels without destroying them nor harming hostages. The IDF, he said, has developed new methods and working on solutions, adding that this "will improve in the coming days." Eliminating the terrorists, he said, could take years. 
Regarding Israel's northern border, which it shares with Lebanon, Gallant said Hezbollah terrorists are "trying to harm us as well, suffering blow after blow." The Israeli air force pilots are ready to go with an "eye to the north."
This war is "the most justified that Israel has ever fought" in its 75 years of independence, he said, and added that it is a fight "against evil, against those who wanted to publicly display the murders [on October 7] to drive us out of our land." Soldiers, he said, have told him that they will do "everything" to achieve victory. He praised Israeli reserves, military industry, and security establishment. 
2:03 pm
Pope Francis: 'Tragedy is unfolding where the Lord lived': Pope Francis decries the immense suffering and death of so many innocent people in the places where the Lord lived, as he meets with the Equestrian Order of the Holy Sepulchre of Jerusalem. "We are sadly witnessing a tragedy unfolding in the very places where the Lord lived, where He taught us through His humanity to love, to forgive, and to do good to all. And instead, we see them torn apart by tremendous suffering that affects so many innocents above all, so many innocent dead."
2:00 pm
"Pro-Palestinian groups demonstrated at Union Station during rush hour Thursday morning to call for a ceasefire in the Israel-Hamas war. The protesters had said they were trying to "shut down Union Station during rush hour." The group grew to about 200 people, taking over much of the Bay concourse area, but commuters were still able to move around them freely. Many commuters stopped to record the protesters with their phones. Police and security were also on hand. The protest was part of a global series of protests called 'Shut It Down for Palestine.'"
1:58 pm
The IDF discovered a Hamas weapons manufacturing and storage facility used to produce and store UAVs and weapons. The site was located in a residential building, in close proximity to schools in the center of the Sheikh Radwan neighborhood in northern Gaza. In the building, Hamas' explosives and operational plans were found right next to a childrens' bedroom.
12:00
According to the IDF, terrorists in Gaza have fired at least 9,500 rockets into Israel since Oct. 7.
11:15 am
While antisemitic assaults have increased in Europe during Israel's war on Hamas, Europol is warning about the risk of jihadi terrorist attacks across Europe. "There is an increased threat for jihadist attacks currently.," Jan Op Jen Orth of Europol told SKAI. "We are in constant contact with all 27 member states, including Greece," he added. "It could be an indication that we might be at the beginning of a new series of different attacks, so we are vigilant," he said. "Europol has guest officers in Greece, has guest officers also in Italy, that carry out secondary security checks, checking migrants who are considered suspicious by the national authorities," he added
11:13 am
Israel has agreed to daily 4-hour humanitarian pauses to allow Gazans to flee southward.
10:40 am
On November 6, the Roman Catholic bishops of England and Wales called on the British efforts to step up its efforts towards a humanitarian ceasefire in Gaza and the immediate release of all hostages held by Hamas. The head of the Bishops' Conference (CBCEW) international affairs department, Bishop Declan Lang, and Bishop Nicholas Hudson, chair of the Holy Land Co-ordination, urged the UK government to make "diplomatic efforts for a ceasefire, the immediate release of all hostages and the facilitation of humanitarian aid so that desperately needed food, water, fuel, and medical supplies can be safely delivered into Gaza.
10:34 am
The 252nd Division of the Israeli army is conducting ground operations in Gaza, securing the area of Beit Hanoun and eliminating terrorists, as well as Hamas tunnels and infrastructure. The commanding officer was quoted saying, "It is our duty to restore peace and security to our civilians."
IDF combat engineers are currently working to expose and destroy Hamas terrorist infrastructure in Gaza, including tunnels. Water and oxygen storage discovered inside the tunnels indicates Hamas' preparations for prolonged stays underground. Since the war began, the IDF has destroyed at least 130 tunnel entrances.
10:14 am
The IDF reported that Israel received mortar fire in the north of the country from Lebanon. Sirens wailed in Shtula and Even Menahem. Israeli forces struck the launcher, as well as a second launcher in southern Lebanon. Also, Hezbollah terrorists fired an anti-tank missile and opened fire at an IDF post near Metula. The IDF responded with artillery fire. There are no reports of injuries in the attacks.
According to Philip Lazzarini, the head of the UN agency for Palestinian refugees, 99 of his employees have been killed in Gaza since Oct. 7. Speaking at a Paris conference on the  situation in Gaza, Lazzarini said this is "the highest number of UN aid workers killed in a conflict in such a short time." He said 700,000+ have left their homes and are living in "degrading conditions in 150 UNRWA schools and buildings across the enclave." He said, "Our shelters are overcrowded, with little food, water or privacy," adding, "Children used to learn and laugh in this school. Today, they plead for a piece of bread and a sip of water." 
"The appalling sanitary conditions represent a looming public health hazard," the UNRWA chief said, adding. "Condemning the horrendous massacre committed by Hamas in Israel is the right thing to do. The UN has done so and continues to call for hostages to be released," he clarifies. "This cannot, however, justify a war that disregards international humanitarian law and promotes dehumanizing rhetoric."
The called for a ceasefire, a significant increase in aid for Gazans, more money for his agency, and a post-war plan to ensure equality for Israelis and Palestinians.
Another junket for Germany's foreign minister
German Foreign Minister Annalena Baerbock is flying to the Middle East for the third time in a month and will stop in the United Arab Emirates, Saudi Arabia and Israel. Her meetings will focus on the release of Germans held by Hamas, the humanitarian situation in Gaza, and efforts to prevent a regional conflagration of the conflict. German Chancellor Olaf Scholz has also traveled to Israel and other countries in the region since Hamas's October 7 atrocities.
A recent friendly match between soccer teams from the Arab towns of Umm Al Fahm and Kafr Qasim in Israel began with a moment of silence for the victims of the October 7 Hamas massacre, the Israel Football Association said. Association board member and Umm al-Fahm team owner Muhammad Abu Alam says in a statement that he jointly made the decision to hold a moment of silence along with his Kfar Qasim counterpart Bilal Badir. "Out of great pain that has not let up, we expressed the deep partnership and unity of all of us in a symbolic act of a minute's silence in memory of the fallen. Wishing for better and beautiful days, for Arabs and Jews alike," said Abu Alam.
IDF advances towards Al-Shifa hospital compound
The IDF 162nd Division is operating in Hamas's "military quarter" of Gaza City and engaged in heaving fighting with terrorists there. According to the IDF, the so-called military quarter, adjacent to Shifa Hospital, is "the heart" of Hamas's intelligence and operations. It was there that Hamas planned and prepared the October 7 onslaught.
The IDF revealed that the Givati Infantry Brigade and tanks entered the area to destroy Hamas infrastructure. More than 50 Hamas terrorists were killed, the IDF says. The IDF says troops found intelligence materials, tunnels, weapons manufacturing plants, and anti-tank missile launch positions. The quarter houses "strategic" Hamas sites, according to the IDF, including the terror group's intelligence and air defense headquarters, political bureau offices, and a police station.
The IDF says the largest Hamas training camp is also there, as are military positions, weapons manufacturing plants, and warehouses, command centers, offices of Hamas commanders, and underground infrastructure — all embedded in the "heart of the civilian population." "This is further proof of the terrorist organization's cynical use of the residents of the Gaza Strip as a human shield for its murderous terrorist activity," the IDF said. Combat is ongoing.
The IDF confirmed that a drone launched by Iran-backed Houthi rebels in Yemen struck a school in Eilat, Israel's southernmost city that is on the Red Sea. "The identity of the aircraft and the details of the incident are under review," it said. Recently, the Houthis in Yemen have attempted to fire drones and missiles at Eilat, though in all the attempts the projectiles were either intercepted or missed their target. Last month, the Houthis fired a ballistic missile that left the earth's atmosphere and was directed at Israel. A US warship shot it down.
A costly war
The war on Hamas is costing Israel's economy approximately $600 million per week, according to the Bank of Israel. Reservists called up for duty left their jobs behind, thus costing Israel millions per week. A report by the bank on the first three weeks of the war said the drop in labor supply is to blame. The partial opening of the education system in recent days may reduce the cost, the central bank notes.
10:00 am
On Nov. 7, US Rep. Shri Thanedar, who represents Michigan's 13th Congressional District (a Detroit-area district bordering fellow Democrat Rep. Rashida Tlaib in the 12th), called on Israel to halt its military operations in Gaza and thus buy time to negotiate freedom for the hostages held by Hamas in Gaza. He suggested: ""I can think of no one better than former President Barack Obama to lead these efforts."
9:48 am
Businessman Vivek Ramaswamy said during a televised debate among fellow Republican presidential candidates that as president he would not lecture Israel about its military affairs. He said he would tell Israeli Prime Minister Benjamin Netanyahu to do what he needs to do to protect Israel, but the U.S. should not get involved. "I would tell him to smoke those terrorists on his southern border," he said. Ramaswamy said the $7 trillion the US spent fighting wars in Iraq and Afghanistan that did not serve its national interests.
9:27 am
French President Macron called for a "humanitarian pause" in Gaza and that there must be a push towards a ceasefire. "In the immediate term, we need to work on protecting civilians. To do that, we need a humanitarian pause very quickly and we must work towards a ceasefire," Macron said in Paris. "Civilians must be protected, that's indispensable and non-negotiable and is an immediate necessity," he added.
Israel's allies have not called for a ceasefire but instead called for "humanitarian pauses" to allow aid in. France is hosting an international humanitarian conference on Gaza today.
Belgian Deputy Prime Minister called on his government to sanction against Israel and investigate the bombings of hospitals and refugee camps in Gaza. "It is time for sanctions against Israel. The rain of bombs is inhumane," Petra De Sutter said. "It is clear that Israel does not care about the international demands for a ceasefire." De Sutter said the European Union should immediately suspend its association agreement with Israel, which aims at economic and political cooperation. De Sutter said Belgium should ban the import of goods from "occupied" Palestine, and that Israeli settlers, politicians, and soldiers should be banned from the EU. Even so, De Sutter said Belgium should increase funding for the International Criminal Court in TheHague, investigate Israeli bombing, and cut flows of funds to Hamas. "This is a terrorist organisation. Terror costs money and there must be sanctions on the companies and people who provide Hamas with money," De Sutter said.
9:09 am
Speaking at the aid conference in Paris, the head of the UN agency for Palestinian refugees, criticized Israel, saying, ."Thousands of children killed cannot be collateral damage. Pushing a million people from their homes and concentrating them in areas without adequate infrastructure is forced displacement. Severely limiting food, water and medicine is collective punishment."
Two former international prosecutors have called on the international criminal court to issue arrest warrants for political and military leaders of Israel and Hamas. Carla Del Ponte served as chief prosecutor of the tribunals for the former Yugoslavia and Rwanda. Graham Blewitt was deputy prosecutor of the international criminal tribunal for the former Yugoslavia. They said in POLITICO: "Thousands of lives have already been lost, and many more have been destroyed. Respect for international law is in short supply, with attacks on civilians, hostage taking, and the indiscriminate bombing of urban areas. Such acts can constitute international crimes. We have prosecuted such war crimes before, as well as crimes against humanity and genocide. It is never an easy task, but it is a vital one."
In a raid in Jenin in the West Bank, the IDF killed seven Palestinians and wounded 13 others, according to the Palestinian health ministry has said.
At the start of the humanitarian conference on Gaza in Paris, UN aid chief, Martin Griffiths, said the world body must not help push Palestinians out of their homes. "The United Nations cannot be part of unilateral proposal to push Palestinians into so-called safe zones," Griffiths said.
8:55 am
A Los Angeles screening Gal Gadot helped facilitate of a film showing the October 7 surprise attack on southern Israel by Hamas militants was marred by a mass brawl outside the venue on Wednesday [Nov. 8] night. Video footage shared by Los Angeles' KABC-TV shows at least two groups clashing outside the city's Museum of Tolerance on Pico Boulevard.
 
Reports of antisemitic attacks have skyrocketed in New York City, and Toronto, Ontario. According to the Daily News, "NYC hate crimes against Jews surge by more than 200% amid Israel-Hamas war; 'community obviously anxious'. In Toronto, police have set up a special online form for reporting antisemitic hate crimes due to the shear number of reports.
8:49 am
Firefights have ensued when Hamas terrorists emerged from their underground tunnel system to engage IDF troops in Gaza. The IDF is making steady progress towards the Al-Shifa and Al-Quds hospitals, where patients and refugees remain. Israel has said that both hospitals harbor terrorists and command centers. 
While Israel has offered a secure road leading to southern Gaza from the north, where bombing and artillery strikes continue, many Gazans remain in the north. There has been evidence that Hamas sought to keep Gazans in their homes despite Israeli bombardment. Hamas is known to shoot Gazans seeking to leave. However, thousands of Gazans have fled south along a road provided with armed Israeli security. 
President Alberto Fernández of Argentina published a full-page advertisement in major Israeli newspaper and called for "the immediate and unconditional" release of the estimated 240 hostages taken by Hamas, which include 21 Argentine citizens – the youngest of whom is reportedly just nine months old. Fernández wrote: "Argentina demands the immediate and unconditional release of the people who were abducted by the group Hamas, and in particular our fellow citizens." The Argentine infant is believed to be the youngest hostage held byHamas in Gaza.
Fernández said he is working with other leader to free the hostages and "to bring an end to the terrible consequences the conflict is having on Palestinian and Israeli women, children and civilians".
Apart from Argentine hostages, at least nine Argentines were reportedly killed during the Oct. 7 rampage. Brazilians, Chileans, Colombians, Peruvians, and Paraguayans were also among citizens of Latin America murdered. Argentina is home to third-largest Jewish community in the world with about 180,000 Jews. On Friday, Fernández's announcement will be published in newspapers in the US and elsewhere.
Israeli Defense Minister Yoav Gallant said Israel is prepared for a "prolonged war". He said: ""We need to resolve things quickly, even if not perfectly," Gallant said during a meeting with directors general of government ministries and local officials. The Times of Israel news reported that the IDF seeks to halt Hamas rocket fire so that Israeli public life near Gaza could continue. "We are in a prolonged war, and the issue of the [Israeli] civilian economy is a main factor in the management of the war," he said. 
8:41 am
A trilateral meeting involving US and Israeli intelligence agencies with the prime minister of Qatar featured discussion about a possible deal for the release of hostages held by the Hamas terrorists. Reuter reported that there is talk of allowing fuel into Gaza. However, Israeli PM Netanyahu has repeatedly rubbished such claims.
According to NATO Secretary-General Jens Stoltenberg, NATO wants to see humanitarian pauses in the war such that aid can reach Gazans. "International law must be respected and civilians be protected in the conflict," he told reporters in Berlin before meeting German Chancellor Olaf Scholz. "The war in Gaza must not turn into a major regional conflict. Iran and Hezbollah must stay out of this fight," Stoltenberg added.
Gaza's coast road leading north to south is open to refugees, the IDF announced.
SUMMARY:
According to the World Health Organization, Gazans are at increased risk of contagious disease, following Israeli air bombardments that have disrupted the local health system, severed access to clean water, and drive locals to crowd in shelters. "As deaths and injuries in Gaza continue to rise due to intensified hostilities, intense overcrowding and disrupted health, water, and sanitation systems pose an added danger: the rapid spread of infectious diseases," WHO said on Wednesday. "Some worrying trends are already emerging." 
Desalination plants have shut down, increasing the risk of bacterial infections and diarrhea, the international body said. It said that more than 33,551 cases of diarrhoea have been registered, mostly among children 5-y.o. and younger.  It claimed the number of children affected is a significant increase over the 2,000 cases averaging monthly in that age group throughout 2021 and 2022.
WHO said fuel shortage disrupted solid waste collection in Gaza, which it said creates an "environment conducive to the rapid and widespread proliferation of insects, rodents that can carry and transit diseases." It said that it was "almost impossible" for health facilities to maintain basic infection prevention measures, increasing the risk of infection caused by trauma, surgery and childbirth. "Disrupted routine vaccination activities, as well as lack of medicines for treating communicable diseases, further increase the risk of accelerated disease spread," it warned.
US air assets struck a base operated by terrorists backed by Iran in Syria in retribution for the increasing number of terrorist attacks on US troops across the region for several weeks. Two US F-15 fighter jets bombed a weapons storage facility linked to Iran's Revolutionary Guard.
On the evening of Nov. 8, an IDF spokesman said Hamas has "lost control" of northern Gaza, while thousands of Gaza fled south to safehaven. "We saw 50,000 Gazans move from the northern Gaza Strip to the south. They are moving because they understand that Hamas has lost control in the north," Rear Adm. Daniel Hagari said.
November 9, 2023
Topic tags:
Swords of Iron NATO United States Israel