Day Thirty-Five Of Swords Of Iron
Democrats pressure President Biden to reveal scope of U.S. aid to Israel.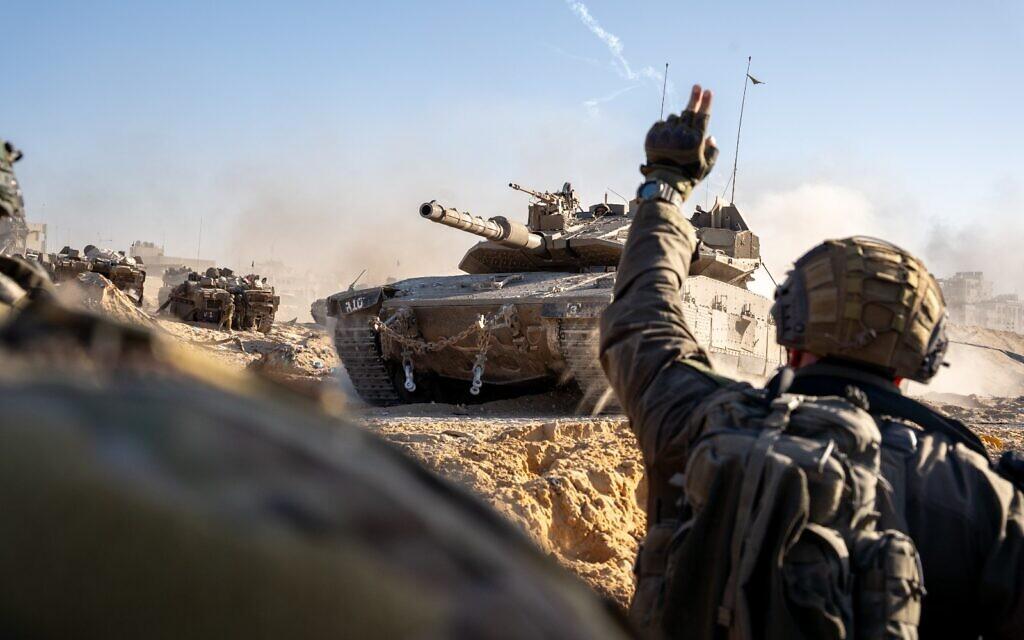 5:15 pm
Egyptian President Abdel-Fattah el-Sissi and Qatar's Emir Sheikh Tamim bin Hamad Al-Thani met today to examine "intensive efforts" toward a ceasefire in the Israel-Hamas war. both countrie played a major role in the international response to the war. In Cairo, Sissi and Sheikh Tamim "discussed the Israeli military escalation in the Gaza Strip, and the subsequent regional challenges that push the region in dangerous and uncalculated directions," the Egyptian presidency said. "The two leaders discussed the best ways to protect innocent civilians in Gaza and to stop the bloodshed," it added. "They reviewed the intensive efforts aimed at achieving a ceasefire and sustaining the delivery of humanitarian aid in quantities that meet the needs of the Palestinian people in Gaza."
On Nov. 11, Arab and Muslim leaders will meet in Saudi Arabia where they are expected to press for a ceasefire. Israel has rejected calls for truce, demanding first that the estimated 239 hostages be released.
Hamas chief Ismail Haniyeh, who is usually based in Qatar, met Egyptian intelligence chief Abbas Kamel on Nov. 9 "for discussions on the current situation in the Gaza Strip," the terror group said.
Summary:
Thousands of Palestinians fled south from northern Gaza on Friday, following announcements by the White House on Nov. 9 that Israel would begin to implement four-hour "humanitarian pauses" in parts of Gaza. The IDF said more than 100,000 Gazans have fled south from Gaza City during the last two days.
IDF aerial drones, explosions, and gunfire were heard in Gaza City as night fell today. Despite the White House announcement of a "pause," The Guardian reported that there have been no reports of a lull in fighting in northern Gaza. The IDF said there will be "tactical, local pauses for humanitarian aid for Gazan civilians" but "no ceasefire".
UN human right chief Volker Türk called for an investigation of what he terms Israel's "indiscriminate" bombardment and shelling in densely populated areas in Gaza. "The extensive Israeli bombardment of Gaza, including the use of high-impact explosive weapons in densely populated areas ... is clearly having a devastating humanitarian and human rights impact," Türk told reporters in Jordan.
Secretary of State Blinken said today that "far too many Palestinians have been killed" in the war. He said the Biden administration "appreciates" Israel's steps to minimize civilian casualties, he said it was not enough. The US has proposed additional ideas to the Israelis, including longer "humanitarian pauses" and expanding the amount of assistance to Gazans.
A monitoring group said each Israeli airstrike on Gaza since Oct. 7 has caused an average of 10.1 civilians each, according to The Guardian. The group claimed that this could be an underestimate. The average fatality is higher than previous Israeli air campaigns.
In the West Bank, crowds thronged in the streets for funerals of locals killed during an IDF raid. Violence in West Bank is escalating. Nineteen Palestinians were killed across the territory on Thursday as clashes took place with the IDF.
Israel killed seven more Hezbollah terrorists on its northern frontier adjacent to Lebanon, bring the death toll for Hezbollah to 78 since Hamas attacked on Oct. 7. Hezbollah leader Hassan Nasrallah will make his second speech this month on November 11.
Rumors abound that Israel is negotiating with Hamas to release all civilian hostages held in Gaza. In one scenario, Hamas would release 10 to 20 civilian hostages in exchange for a brief pause in fighting, The Guardian reported. A release of 100 hostages would ensue if terms are met.
Evacuations of foreign passport-holders was suspended today. This was due to problems bringing medical evacuees to the Rafah crossing from inside Gaza, Reuters reported. The Rafah crossing was also suspended on Nov. 8 due to what the State Department called an unspecified "security circumstance".
Organizers of the pro-Palestine march in London on Nov. 11, Armistice Day, claim that "hundreds of thousands" of people will come for one of Britain's biggest days of mass protest.
Three women appeared in a British court on Friday and pleaded not guilty to terrorism offences after they were pictured at a pro-Palestinian march in London carrying photos of paragliders. Hamas terrorists used motorized paragliders to infiltrate Israel on Oct. 7.
4:46 pm
UN Human Rights chief Volker Türk repeated his urgent calls for a ceasefire in the war in Gaza so as to allow aid to reach Gazans. Speaking Jordan today, he called for the release of hostages held in Gaza, as well as demanding a "sustainable" end to the "nightmarish" situation for those trapped in Gaza. "Water is scarce and fear is pervasive" in Gaza, he said. He said he visited el-Arish hospital in Egypt and saw children seriously injured in Gaza. "These were the 'lucky' children who suffered terribly but are still alive and receiving proper medical treatment," he said.
Turk said civilians should be protected by international law "wherever they are" while pointing out "nowhere in Gaza is safe". He added:
"Stop the violence, guarantee the safety of humanitarian workers, provide safe access to ensure that humanitarian assistance can be delivered to all those in need, make sure people have enough to eat, clean water to drink and medical care and shelter, free the hostages, serve accountability and bring to justice in line with international humanitarian law the perpetrators of serious violations."
The head of HonestReporting, an Israeli media group, accepted the vigorous denials on the part of the world's biggest news organizations to accusations that they had previous knowledge of Hamas's deadly assault on Israel on Oct. 7. Gil Hoffman of HonestReporting said the denials were "adequate." The Associated Press, Reuters, the New York Times, and CNN made strong denials to suggestions that they had been tipped off before the attacks.
In addition to accusations by HonestReporting, two Israeli politicians also made accusations, adding that any journalists with prior knowledge of the assault should be treated as terrorists.
Executive Director Gil Hoffman of HonestReporting said there was evidence to back up the article's suggestions, but said "they were legitimate questions to be asked".
Hoffman said he was "so relieved," according to Reuters, that the four media organizations said they did not have prior knowledge. "We raised questions, we didn't give answers. I still very much think that the questions were legitimate and the answers were adequate from the media organisations themselves." Regarding politicians' accusations, Hoffman said: "There are those who took our story and pretended that they knew the answers - the Israeli government, cabinet ministers, various Twitter personalities - we didn't claim to know."
Video recorded on the day of the assault showed various photojournalists entering Israel with the terrorists or at the border.
11:11 am
A new Israel Democracy Institute telephone poll showed that Israeli Jews and Arabs (94%) and (70%), respectively, who say they feel a part of the State of Israel and its problems are at a 20-year high. When asked whether they are optimistic about Israel's future, only 27% of Israeli Arabs — compared to 72% of Jewish Israelis — responded that they are, the lowest figure recorded since the survey first began measuring optimism in 2009. Asked, "If you could receive American citizenship or citizenship of another Western country, would you prefer to move there to live or would you prefer to remain in Israel?" a majority of Jewish Israelis (80.5%) and a slight majority of and Arab Israelis (59%) respond that they'd prefer to stay in Israel. Those majorities held across all political orientations, including left (66%), center (80%) and right (84%).
National Unity chairman and war cabinet minister Benny Gantz said during a Zoom meeting Nov. 9 with executives of American Jewish organizations, "I believe I've succeeded in convincing my American colleagues and international colleagues not to use the phrase settler violence anymore." He added, "Because 99% or more of the settlers are law-abiding people living in the settlements driving in the roads."  He did not clarify to which State Department colleague he was referring. The State Department continues to use the term, while the EU refers to "settler terrorism."
President Biden has called on Israeli PM Netanyahu to control a perceived increase of violence on the part of "extremist settlers."
Gantz said on Zoom that Israelis deemed "settlers" have made up a disproportionate number of those been killed fighting for the IDF in Gaza. "I don't want to sweep under the rug the fact that a small, extremist group who [is taking] actions against Palestinians. We are operating against it, we are using police forces and [the Shin Bet] against it," Gantz said. According to the Yesh Din human rights group, there had been more than 172 incidents of settler violence and harassment against Palestinians as of last week in 84+ Palestinian towns and communities in the West Bank since Hamas's terror onslaught. 600+ Palestinians from 13 communities have reportedly abandoned their homes in the West Bank due to fears of "settler attacks", according to the the B'Tselem rights group.
In an Israeli war cabinet meeting, according to The Guardian, Shin Bet chief Ronen Bar called on senior ministers present to ensure that the government transfers the tax revenues that belong to the Palestinian Authority to Ramallah, explaining that the PA's collapse could lead to a violent intifada breaking out in the West Bank, the Maariv news site reported. Bar reportedly stressed how important West Bank stabilization is, and combatting clashes betweenJews and Arabs in the West Bank so that the IDF will not have to fight on an eastern front. Israeli PM Netanyahu said he would present the issue before the full cabinet, at which point Bar interrupted to explain that the full cabinet is no solution. Bar said the full cabinet is the problem because there are government ministers seeking to enflame the situation. This was a possible reference to Finance Minister Bezalel Smotrich and National Security Minister Itamar Ben Gvir and other ministers  who have opposed steps to stabilize the PA. The cabinet transfered some tax revenues to the PA but deducated $26 million from the Ramallah fund, which is used to pay for services in Gaza. The cut was opposed by Israeli security agencies, and the Biden administration.
According to the IDF, three drones were launched from Lebanon at northern Israel earlier, setting off sirens in the Upper Galilee. Iron Dome defenses destroyed one drone, and two drones fell on unspecified areas in northern Israel, the military says. "The incident has ended and its details are under review," the IDF adds.
UNRWA chief Philippe Lazarrini tweeted: "Devastated. Over 100 UNRWA colleagues confirmed killed in one month. Parents, teachers, nurses, doctors, support staff,"  and added, "UNRWA is mourning, Palestinians mourning, Israelis mourning. Ending this tragedy needs (a) humanitarian ceasefire now." In a video message, the UN agency for Gazan refugees said 101 of its employees had been killed since the October 7 Hamas onslaught.
"They were teachers, school principals, engineers, doctors, a psychologist, support staff, sanitation and tech workers," it says.
Israeli PM Netanyahu met with mayors of Gaza border towns in southern Israel at his Jerusalem office today. Adding to statements he made this week in which he said Israel will have "overall security responsibility" over Gaza at the conclusion of the war, he told the mayors, "IDF forces will remain in control of the Strip, we will not give it to international forces," his spokesman said.
Recently, American officials have talked about the possiblity of an international peacekeeping force, incorporating NATO troops and troops from Muslim countries, in Gaza for an interm until a functioning Gazan goverment is formed. However, Netanyahu apparently rejects the concept outright. etanyahu tells the southern mayors, according to a readout from his spokesperson.
According to The Guardian, the mayor said they seek a different security reality after the war is over and urged him not to grant a ceasefire until the last terrorist in Gaza is killed, according to the PM's office. Netanyahu also promised economic aid to compensate towns along the Gaza border for the damages incurred during the October 7 massacre.
The Hamas health ministry in Gaza claims the war has caused 11,078 Palestinians to die since October 7. The death toll includes 4,506 children, a health ministry statement says, while 27,490 people have been wounded in the war, which erupted with deadly Hamas attacks on southern Israel. This figures have not been independently verified.
Yael Angel, whose nephew Ofir is held hostage in Gaza, said that hostages' families held a "very respectable" 2 1/2 hour meeting on Nov. 9 with Sara Netanyahu, the wife of the prime minister
Sara Netanyahu told the families: "I know that you have not had a moment's rest. Every day that goes by without your loved ones is an endless pain. My heart is with you; all of our hearts are with you." She promised her husband "will do everything to bring our hostages, your loved ones, safely back home."
11:02 am
The Times of Israel reported that IDF troops found the entrance of Hamas tunnel beneath a child's bed in an upscale residence in Gaza. The home also had an outdoor swimming pool.
Speaking to British commentator Piers Morgan, journalist Douglas Murray said on the evening of Nov. 9 that the UK is the "weak link" allowing the spread of terrorism by failing to enforce its borders. He also said that Hamas differs from the Nazis of the Second World War in that while Nazis tried to hide their crimes and were ashamed of exterminating Jews, videos show that Hamas terrorists carried out their crimes -- beheadings, rape, torture, murder, abductions -- with "glee."
8:25 am
The IDF struck hospitals in Gaza as troops push deeper into residential areas while battling Hamas terrorists. Israel has accused Hamas of hiding in hospitals, schools, and residences, and using the Al Shifa hospital complex as its headquarters. Hamas and hospital staff have denied the claims. Early today, the IAF struck the hospital courtyard and obstetrics department, according to Hamas. Strikes were conducted by Israel at three hospitals. Hamas claims 13 were killed by the strikes.
"Thirteen martyrs and dozens wounded in an Israeli strike on Al-Shifa compound today" in central Gaza City, a PA statement said. AFP reported that at least seven covered bodies were outside Al Shifa hospital.
On Nov. 9, the IDF reported heavy fighting near the hospital and that dozens of terrorists were killed and tunnels were destoryed.
Mohammed Zaqout, director-general of Gaza hospitals, said Gazans are facing a "catastrophic situation" without electricity, water, or food. "We are unable to provide services to the wounded and the hospitals are continuously bombed by Israel," Zaqout said.
AP wire services reported that diplomats and military of the US and India are assembling today at the capital to discuss security in the Indo-Pacific region, the Israel-Hamas war, and China's adventurism. Indian Foreign Affairs minister Subrahmanyam Jaishankar, said the Middle East was a big concern. "India has always advocated the resumption of direct negotiations towards establishing a sovereign, independent and viable state of Palestine living within secure and recognised borders, side-by-side at peace with Israel."
Secretary of State Blinken said the US and India are partners and will discuss matters with implications for the future. Blinken is in Asia to meet with regional partners in a show of unity over the war in Ukraine and to prevent existing differences on Gaza from deepening.
8:17 am 
The Huffington Post reported on Nov. 9:
Washington Post Deletes 'Racist' Hamas Cartoon, Apologizes After Intense Backlash: The paper's opinion editor admitted he "missed something profound and divisive" about the illustration, which was titled "Human Shields." The Washington Post has issued an apology after publishing a political cartoon which was criticized for its "dehumanizing" depiction of Palestinian people. People inundated the paper with complaints after it ran a cartoon titled, "Human Shields," online and in its print edition on Tuesday.
Artist Michael Ramirez's drawing, which has since been pulled from The Post's website, showed a snarling Hamas spokesman with wide-eyed women and children tied to his body. Hovering over his head, was a speech bubble that read, "How dare Israel attack civilians."
8:09 am
Hezbollah said seven of its adherents have been killed in Syria. The Iran-back terrorist group did not specify where they were killed other than to say they had been "martyred on the road to Jerusalem." Official Syrian media reported that the IAF struck in the central province of Homs early today. Hezbollah has fought alongside Syrian military to prop up the Assad regime during Syria's 12-year-long internal conflict. The IDF said its air assets struck Syria following a drone strike from Syria on a school in Eilat. Since Oct. 8, the IDF has exchanged fire with Hezbollah. So far, 68 Hezbollah terrorists have been killed since the war started on Oct. 7. 
8:05 am
A photograph is circulating on social media purportedly showing sniper redoubts in the maternity ward of the Al Shifa hospital in Gaza. Israel has long accused Hamas of harboring terrorists and their operations in Gazan hospitals.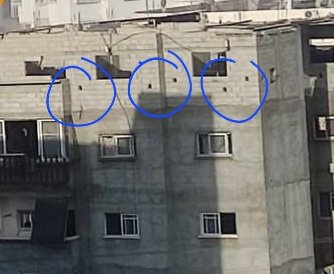 7:53 am
MEMRI.org translated a video distributed among Palestinians in which a grandmother says she is willing to sacrifie her 17 children and 65 grandchildren to kill Jews and take over Israel. Jihad, she said, is the top priority for Muslims. 
7:29 am
Palestinian authority leader Mahmoud Abbas said his organization is willing to take control of Gaza, but only under a broader deal with Israel that would establish a Palestinian State based on the 1967 borders with East Jerusalem as its capital.
Rocket fire from Gaza at Tel Aviv was the first since Nov. 7. Two persons were wounded by shrapnel resulting from rocket blasts, according to Israeli emergency services. Warning sirens blared in Tel Aviv, Ramat Gan, Bneir Brak, Holon, Ashdod, Ganot, Rishon LeZion, Petach Tikva, Ra'ana Herliya and surrounding communities.
7:21 am
A live broadcast on the evening of Nov. 9 by Al Jazeera accidently exposed Hamas terrorists operating inside the Indonesia hospital in northern Gaza. The Al Jazeera video was subsequently wiped.
Speaking in an interview on Fox News, Israeli premier Netanyahu condemned Rep. Rashida Tlaib (D-Mich.), a progressive who has long supported the Palestinian cause, for her rhetoric about the war on Hamas and Israel's sovreignty. He said, "From the river to the sea means no more Israel. This woman calls for homicide and genocide."
7:18 am
Police in Texas said on Nov. 9 that they are inveestigating graffit smeared on the walls at the office of Rep. Monica de la Cruz (R-TX), which condemn her vocal support of Israel in the current war on Hamas. Spokesman Ryan Saylor said her district office was vandalized twice this week with messages reading: "Monica murders" and "Isrel kills Jews too." Her district borders Mexico.
7:14 am
According to Jewish News 24, the US has supplied Israel with the Helffire R9X missile, which has no warhead but six sharp blades that rotate in a 12 foot radius to knock out enemy missiles with kinetic energy. In 2022, the US used a Hellfire to kill Afghani terrorist Ayman Al-Zawahiri.
5:47 am
"We don't seek to conquer... occupy... govern Gaza," said Israeli PM Netanyahu on Nov. 9, but added that a "credible force" of the IDF must enter Gaza to prevent emerging terrorist threats. There was some understanding outside of Israel that Netanyahu was thus signalling that Israel would take responsibility indefinitely for the enclave. However, the Biden administration opposes post-war Israeli occupation of Gaza. 
The Guardian reported earlier that Netanyahu had rejected a five-day ceasefire deal with the terrorists in return for a release of some hostages held in Gaza.
The IDF struck terrorists in Syria it held responsible for a drone strike on a school in Eilat, the southernmost city of Israel on Nov. 9. "The IDF holds the Syrian regime fully responsible for every terror activity emanating from its territory."
The IDF launched airstrikes on or near three hospitals today, which it believes harbors terrorist operations and storage.
While the White House announced on Nov. 9 that Israel would implement four-hour "humanitarian pauses" in parts of northern Gaza to allow people to leave. However, The Guardian reports that there are no clear signs yet of the pauses. While the IDF has not agreed to a ceasefire, it will allow "tactical, local pauses" to let in humanitarian aid into Gaza. The UN has demanded that it should coordinate the short-term pausesafter agreement by all sides to be "truly effective", a UN spokesperson Stéphane Dujarric has said.
Israeli medics and the families of hostages and supporters demonstrated outside the International Committee of the Red Cros (ICRC) headquarters in Tel Aviv on November 9. They called on the ICRC to demand access to visit and treat the hostages still being held inside Gaza.
The UN reported that the economy of Gaza and the West Bank have taken a hit since Oct. 7.  The gross domestic product shrank 4 percent in the West Bank and Gaza in the war's first month, sending more than 400,000 people into poverty – an economic impact unseen in the conflicts in Syria and Ukraine, or any previous Israel-Hamas war, the UN said.
According to a poll by AP-NORC Center for Public Affairs Research, Democrats are divided on how President  Biden is handling the Israel-Hamas conflict. The poll found 50 percent  approve of Biden's handling the war, while 46 percent disapprove – and the two groups diverge substantially in their views of US support for Israel.
"President Biden faces growing pressure from allies in Congress to publicly disclose the scope of U.S. arms being funneled to Israel, as the enormous civilian death toll in Gaza draws international condemnation and increasingly unsettles Democrats.
"Contrary to its military aid program for Ukraine, which saw the Pentagon release recurring fact sheets about the volume of U.S. arms transfers, the administration has not made public the quantities of weapons it is sending to Israel. The administration is also pushing for the authority to bypass notification requirements to Congress that apply to every other country receiving military financing.
"'I do not support the administration's request to write into law waivers of congressional notification of foreign military financing, including for Israel," Rep. Gregory W. Meeks (N.Y.), the House Foreign Affairs Committee's top Democrat, told The Washington Post. "There is no reason we cannot both ensure needed U.S. assistance is provided to Israel in an expeditious manner and ensure Congress is able to fulfill its constitutional oversight duty.'"
Rising antisemitism on British university campuses prompts Jewish students to leave.
November 10, 2023
Topic tags:
Swords of Iron United States Israel United Nations