Day Forty-Six Of Swords Of Iron
Qatar says a hostage deal is at its "closest point" in negotiations.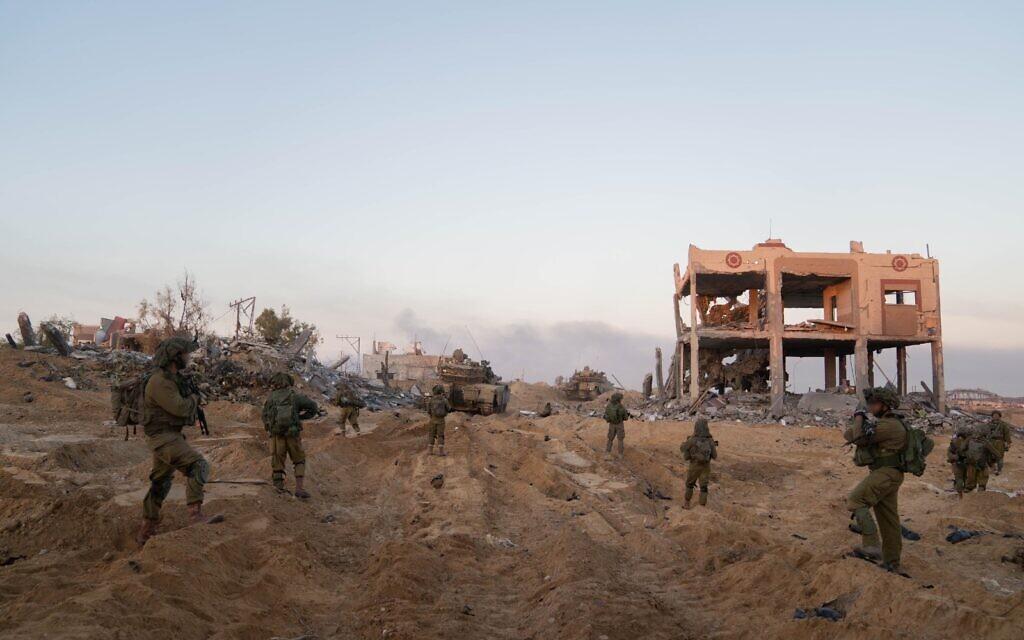 1:37 pm
President Biden said a deal is "very close" to securing the release of potentially dozens of hostages held by Hamas. He told media at the White House: "We're now very close, very close – we can bring some of these hostages home very soon, but don't want to get into the details of things...Nothing is done until it's done and when we have more to say we will, but things are looking good at the moment."
According to Reuters, a US official said that Israel and the terrorists are "very, very close" to agreeing a deal. This would include a release of 50 hostages, mostly women and children, in exchange for 150 Palestinian prisoners and a pause of four or five days, the official said. "We believe we are very, very close to having a deal. There is still a lot of work to be done, still approval that has to be achieved. But we believe we are very close," the official reportedly said. 
Israeli PM Netanyahu has convened his war cabinet amid growing signs of an imminent deal on the release of hostages. Ismail Haniyeh, Hamas's leader, also said today that a deal is imminent. 
1:20 pm
IDF began targeted operations in southern Gaza as part of a further expansion of ground operations intended to destroy Hamas and rescue 240+ hostages held by the terrorists.
According to Arab media, the IDF arrested a number of terrorists at an Israeli checkpoint in northern Gaza. 
An Israeli strike on southern Lebanon today claimed the lives of two journalists reporting for Beirut-based Al-Mayadeen TV on the the border with Israel, according to Lebanese officials and the TV station. Al-Mayadeen TV — politically allied with  Hezbollah — identified the journalists reporting from the town of Tair Harfa as Farah Omar and Rabih Maamari. It said they were "martyred by treacherous Israeli targeting," adding it was an airstrike.
8:10 am
Pope Francis will meet the family members of 12 hostages abducted by Hamas at the Vatican today, according to Israel's foreign ministry. Twenty family members will meet the pontiff and then move on to meet senior figures in the Italian government and hold interviews with the Italian press. So far, Hamas has refused to allow visits by the International Committee of the Red Cross, or any other humanitarian visits.
Former Israeli PM Ehud Barak stirred controversy when he told CNN's Christiane Amanpour that Israel helped build some of the underground spaces beneath Gaza's Al-Shifa Hospital. Barak said tunnels used by Hamas for terror activity were originally "built by Israeli constructors." Amanpour responded, "When you said it was built by Israeli engineers did you misspeak?" Barak answered: "No no, you know, some decades ago we were running the place… so we helped them… we helped them to build these bunkers in order to enable more space for the operation of the hospital." Amanpour said the comment "has sort of thrown me a little bit."
Israel's enemies have cited the clip as ostensible proofe of Israel's lies about Hamas building tunnels under Al-Shifa and using the medical compound and patients to shield itself from attack. The hospital was built when Israel ruled Gaza, but Hamas appropriated the hospital basement and has since dug several further floors and added tunnels to make it into an operations centers as part of its vast underground labyrinth. However, Barak's comments did not contradict Israel's main argument that Hamas has been misusing the spaces under the hospital for terror purposes.
Israel's elit Maglan infantry unit is operating in Gaza, using Spike missiles and the Iron Sting guided mortars. According to the IDF, the unit has located and struck some 70 Hamas targets during the ground offensive, including observation posts, missile launch sites, and terror cells. The IDF said Maglan troops, along with other forces of the Commando Brigade, found weaponry in the home of a Hamas member in Gaza's Shati camp, and raided a school next to which two tunnel shafts were found.
7:42 am
Germany's interior minister Nancy Faeser called on Muslims in Germany to explicitly condemn Hamas's deadly October 7 attacks and to voice solidarity with Israel. There are about 5.5 million Muslims living in Germany, constituting the second-largest religious group. "I expect the Muslim organizations to clearly position themselves and uphold their responsibilities in society," Faeser told German broadcaster ARD. Muslim groups should "clearly condemn" the attack by Hamas and not just with a "yes, but," she said. "It must be very clear. We stand by Israel's side," added Faeser.Some Muslim groups have indeed "lived up to their responsibilities," she says. "Some have not." However, the minister said voices "defending our values" must get louder.
Avi Shoshan left his job as speaker for Tel Aviv's Ichilov Medical Center following controversy over the October 24 press conference in which freed hostage Yocheved Lifshitz criticized Israeli failures and spoke well of her captors. The event was considered a propaganda win for Hamas. The 85-year-old Lifshitz was abducted from Kibbutz Nir Oz during the Oct. 7 attack. Husband Oded was also abducted and is still being held. Lifshitz and Nurit Cooper, 79, were released and returned to Israel on Oct. 23 for what Hamas labeled humanitarian reasons. The Oct. 24 press conference was criticized for being apparently hasty and disorganized. Shoshan had worked as the hospital spokesman for 13 years.
Actress Susan Sarandon is being criticized for telling a recent pro-Palestine rally that Jews fearing for their safety amidst an increase in anti-Semitism "are getting a taste of what it feels like to be a Muslim in this country." She has criticized Israel's retaliation for the terrorist attack, accusing Israel of genocide, atrocities, and war crime, whilst distributing misinformation and denials of Hamas's barbarities in Israel. She has characterized the terrorist group as a "resistance organization." 
In response, Indian-American Muslim author Asra Nomani tweeted: "Let me give you 'a taste' of what it 'feels like' to be a Muslim in America: My dad didn't have to become a second-class indentured servant to one of the many tyrants of Muslim countries…My mom?… Being Muslim in America meant she got to live FREE with the wind in her hair…You think the Muslim dictatorship of Qatar allows a pathway to citizenship for Muslim slaves, servants or Palestinian Muslims? Hell no…"
"Please don't minimize the experience of Jewish Americans by sanitizing the hell that it is for Muslims living in Muslim countries and vilifying America for the life — and freedoms — she offers Muslims like my family."
Qatar foreign ministry spokesman Majed Al-Ansari said negotiations to free hostages held by Hamas are now at the "closest point" to a deal, which has reached the "final stage." Al-Ansari said, "We are at the closest point we ever had been in reaching an agreement,"  adding negotiations have reached a "critical and final stage."
Police police arrested a 38-year-old Polish woman holding extremist Islamic sympathies for planting a bomb on a street in Warsaw earlier this month. There were no casualties. Police say in a statement that the woman placed the device in Warsaw on the night of Nov. 10-11 and then took a train back to her home in western Poland. The device had the potential to hurt many people, police say. "The makeshift explosive device filled with gas containers and nails could have caused a serious threat to the health and lives of many people," the statement says. It adds that she was charged with "causing danger and bringing danger to the life and health of many people, as well as preparation for causing such danger." No other details were released about the woman in custody. 
According to official media in Lebanon, an Israeli strike in south Lebanon killed two journalists and another civilian today; Lebanon's Al-Mayadeen television says two of its staff were killed. The state-run National News Agency reports "the death of three citizens — two journalists and another civilian — in enemy bombing" of the Tair Harfa area. Al-Mayadeen reported that  its "correspondent Farah Omar and cameraman Rabih Maamari were killed by an Israeli attack." The IDF said it struck Hezbollah targets, including missile launching squads and other military sites. It has not commented on the Lebanese claims so far.
German law enforcement raided the homes of 17 people in Bavaria accused of spreading online antisemitic hate speech and threats targeting Jews. According to the Bavarian criminal police, the suspects are 15 men and two women, aged 18 to 62, dpa reports. Police questioned the suspects and confiscated evidence from their homes, including cellphones and laptops. The group are believed to have celebrated Hamas's attack on Israel. They are accused of spreading hate speech against Jews on social media, and using symbols of banned terrorist organizations. One suspect allegedly sent a sticker in a WhatsApp school class chat showing a clown with the words "Gas the Jews." Another person allegedly posted on his account that "the Jewish sons" deserved nothing more than to be "exterminated. Yet another suspect is accused of posting a picture of Nazi dictator Adolf Hitler shortly after the attacks with the caption "I could kill all the Jews, but I left some alive to show you why I killed them." Next to it, he posted a Palestinian flag, the caption "Free Palestine" and an emoji with a victory sign.
Sirens have been activated at Kibbutz Bar'am in northern Israel. Several mortar rounds fell in the area, causing no casualties.
Hadas Calderon's children Erez, 12, and Sahar, 16, were abducted by Hamas, as was her ex-husband Ofer on October 7. "We must not miss this chance for a deal," Calderon said, amid reports of a potential agreement that could see some of the hostages released. She is standing vigil to draw attention to the hostages' plight. "I call on all the mothers to come to the entrance to the Kirya, and to stand alongside me," she said, using the name of the headquarters base. "We must bring them home."
The IDF said it fired on three Hezbollah anti-tank missile squads in southern Lebanon, and fighter jets struck Hezbollah sites in response to repeated attacks on northern Israel. Several mortars were fired earlier from Lebanon at an army post on the border, causing no injuries, according to the IDF. It says it is responding with artillery shelling at the sources of the fire in southern Lebanon.
November 21, 2023
Topic tags:
Swords of Iron